[ABORTION] Irish abortion law: Referendum 'to be held next year'
Posted by Dogoo Yung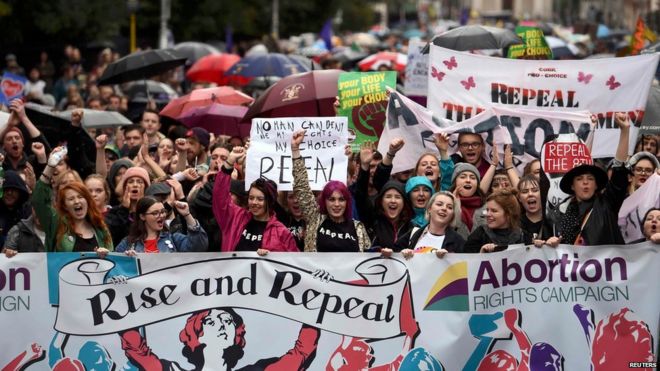 The Irish government says it will hold a referendum next year on whether to change the country's laws on abortion, one of the strictest in Europe.
Voters will be asked to decide whether to change the Irish constitution under which abortion is only allowed if the life of the mother is in danger.
A woman convicted of having an illegal abortion faces up to 14 years in jail. But they are allowed to travel abroad for terminations.
The vote could be held in May or June.
The Eighth Amendment of the Irish constitution, introduced in 1983, gives an equal right to life to a pregnant woman and an unborn child.
However, thousands of women a year go abroad to have an abortion.
The Irish government says it has agreed an "indicative timeline" for a referendum on abortion legislation.
Taoiseach Leo Varadkar, said: "Any amendment to our constitution requires careful consideration by the people.
"They should be given ample time to consider the issues and to take part in well-informed public debate."
The date of the referendum depends on an all-party parliamentary committee reporting back by Christmas.
A member of the committee, Anne Rabbitte, said it would make every effort to meet its deadline, but that it may not prove possible.
This could delay the legislation required for a referendum in the middle of next year.
If the dates are confirmed, the vote on the issue would happen just weeks before a planned visit to the country by Pope Francis, who is expected for the World Meeting of Families, from 21-26 August next year.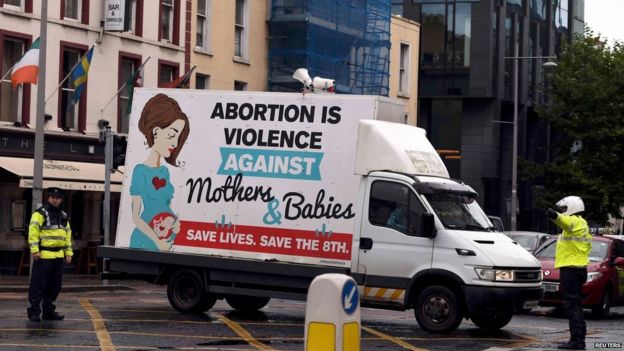 In 2013, new rules came into effect under Ireland's Protection of Life During Pregnancy Act, to allow abortion when there is a real and substantial risk to a woman's life.
However, the ban remains in cases of rape, incest, inevitable miscarriage and fatal foetal abnormality.
On Tuesday, the Irish government also announced a timetable for a number of other referendums, including votes on blasphemy, the woman's life within the home, and the introduction of directly-elected mayors.
There are also referendums scheduled for 2019.
These include one to reduce to two years the time couples would have to live apart before getting a divorce.
Proposals to allow Irish people living abroad to vote in presidential elections, and to reduce the voting age to 16 are also planned for June 2019.
Thanks for visiting naijatripzone blog please follow us on
twitter
@naijatripzone and on
instagram
@naijatripzone_blog for more updates.